PDF(Portable Document Format) is the format that is widely used to share the documents. As it ensures the security of your files, no one can edit the data inside the files. Many offline tools available to convert the PDF files to word files but you may not get satisfactory results.
However, you may face many hassles after converting PDF files such as some converters don't support images inside the files, it only fetches texts or some may not support the fonts inside the files.
Hence, we can't edit PDF files without converting them into Word files. There are many online PDF to Word converters to edit the files. Usually, when we convert the PDF files using MS word or any offline tools then it may change the format of the content inside the files. These online tools will ensure the quality of the files.
So we have mentioned the list of PDF to Word converters which will convert your files without disrupting the contents and graphics within the files.
1. Small PDF
Small PDF is one of the best online PDF to Word Converter tool. It provides many options for PDF file conversions such as PDF to Excel, PDF to PPT, PDF to JPG and many more. It gives 16 different tools for PDF files.
It supports the graphics within the contents hence you will have satisfactory results without disrupting any format of your content within the file. There is no file size limit. You just have to drag and drop the files to convert into Word files.
The tool also compresses the PDFs without losing quality. The file size limit is 5 GB but if it will be larger then it will take a few minutes to convert the files.
It also ensures the file security as the uploaded files will be deleted automatically after conversion. The tool also merges and splits the PDF files. You can also insert the page number and delete the PDF pages easily.
It also unlocks the PDF by removing passwords, encryption, and permission from PDF files. Although, you can also protect your PDF files by adding passwords.
---
2. PDF to Doc
PDFtoDoc is an online PDF to word converter. It provides a good quality of conversion files. You can upload 20 PDF files to convert into word files at the same time, unlike other converters.
You just have to upload your PDF file and in few seconds your PDF file will be converted into Doc. you can download files in doc or in zip archive also. It also supports the images and graphics inside the files. You will get Doc file without any disturbing formatting.
It gives 9+ format options. You can convert PDf files into JPG, PNG, DOCX and many more. The tool also combines PDF files. Even it converts any files into PDF. You can also compress the PDF files without losing the quality. The interface of the tool is very easy and simple to use.
5 Best Free Captcha Plugins For WordPress Site
---
3. ILovePDF
ILovePDF is the easiest online PDF to Word converter tool. It provides many options for PDFs tools such as merge and split the PDFs, compress the file size and watermarking.
However, you can convert PDF into any format like PDF to PPT, PDF to JPG, PDF to Excel, etc. You can register for free to get more free features.
The tool offers many free and paid features including multiple files per task and higher file size per task. But free features are limited. The higher file size is limited to each task in a free version.
If you want to get the benefit of more additional features then you have to purchase a Premium plan to increase the file size limit and access more tools.
---
4. Zamzar
Zamzar is an online file conversion tool. It converts many file formats into word file. The tool provides many options such as document formats, music formats, video formats for conversions.
If you purchase the Basic, Pro or Business plan then you will get increased file size limits, online storage, and many other additional features. It offers 1000+ different conversion options.
You just need to upload a PDF file and select the format then click on convert now. You can also manage your files easily with this tool. The interface is simple and easy to use.
---
5. FreePDFConvert
The PDF converter is the simplest PDF to Word converter. The tool will delete the uploaded files after the download is finished.
It converts your file within few seconds to word file. You will have many conversion options from PDF files. It also offers PDF tools such as compress the PDF files, rotate, delete the PDF pages and many more.
You can also encrypt your PDF files. It is integrated with Google Drive and Dropbox. The tool also allows URLs to convert the PDF files.
---
6. Simplypdf
Simplypdf is another PDF to Word converter. It provides PDF to Word, Excel and PPT conversions. It also converts pdf file into Rich Text format.
Though the page range is limited to 100. If your pdf file is password protected then you have to enter your password for unlocking the pdf. The tool gives many other options unlike other converters such as Text Annotation, detection of header and footer, Table detection and many more.
Unlike other converters, it also has advanced OCR (optimal Character Recognition) which detects the text inside the file. You just have to select the OCR language.
---
7. Alto PDF
Alto PDF is a free online PDF to Word converter. You don't have to register for converting your files. It provides multiple options to Convert from PDF. Alto PDF offers various PDF processing tools like other converters.
It gives 15+ formats for conversions of files. It also offers a Mac PDF converter. This tool ensures the security and encryption of files. It gives unlimited cloud storage space. For security and protection, you can encrypt your PDF files by passwords.
It ensures the quality of converted files. The tool is integrated with Google Drive, you can drop the file from it and again export them back.
---
8. SodaPDF
SodaPDF is a reliable and portable PDf software with multiple tasks. Many PDF processing tools are available like split and Merge the PDFs, watermarking and page numbering.
The conversion tool will quickly convert PDF to Word files by drag and drop. You can also add files from Google Drive and DropBox. The converted file can be downloaded. They also email you a link to your file to see on your browser.
It is also available offline in download versions. It is the best option for batch converting which will convert the bulk number of files without any delay. The software will delete the converted files within 24 hours from their server which ultimately ensures privacy and security.
---
9.Online2PDF
The online PDF converter is an efficient PDF to Word converter. You can convert your PDF files into many formats. The PDF files can be merged, edited and unlocked.
The tool converts multiple files at the same time. You will get converted files into a Zip archive. You will have the option of "convert the files separately" at the time. But all the files will be merged into a single file if you don't choose this option.
The maximum file size is 100MB. If there are multiple files together then the entire file size shouldn't exceed 150MB. There are many other features such as compress the PDFs, advance OCR for character recognition, define header and footer, etc.
10+ Portfolio Theme For Your Next WordPress Site
---
10. Foxit Software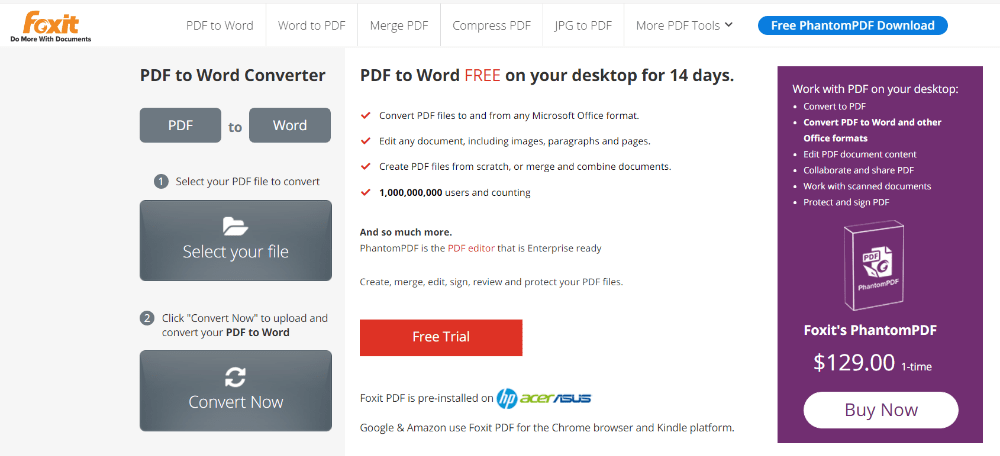 Foxit Software is another best online PDF to Word converter. It allows only one file to convert at the same time.
However, it has many PDF tools and multiple Microsoft Office formats. PDF tools include edit, merge and compress PDFs. You just have to drop select your file and click on convert now.
It works on all operating systems including Windows, Mac, and Linux.
Foxit also offers another PDF editor tool. PhantomPDF which has additional features with many formats options. The files can be protected and encrypted. It also works with scanned documents.
---
11. Free Online OCR
Free online OCR is an optical character recognition software. It converts PDF to Word, PDF to Excel and PDF to txt format.
It basically recognizes different language's text and characters from PDF files. It supports 46 languages. You just have to upload the file, select the language and output format and convert your PDF files.
However, the file size limit will be up to 15MB. It ensures to keep your converted files as the original files. The software allows converting 15 files per hour without registration. If you want to convert multiple files and get more features then you have to register on it.
---
12. PDFPro
PDF pro provides the easiest way to convert your PDF files to word. You just need to upload your file or drag & drop the file. It will convert the file into word just in few seconds and download the converted file.
Converted files are stored in a secure database managed by Amazon Cloud hosting. You can delete your files from the system. It offers many PDF processing tools and conversion format options.
You can even protect your pdf files by entering the password. If you will purchase plans to get additional features then it also provides 10GB of cloud storage.
---
13. WPS to Word Converter
WPS to Word Converter is a rapid PDF to word converter than any converter as it is a desktop app. It processes files in batch, and you will have converted files as it is.
You can convert your files up to 5 pages only in the free version. But if you want to convert the number of pages then you need to purchase a plan of about $19.99.
Unlike other converters, it gives 1 GB cloud storage for free. Even you will get the templates for free. A free version is the best option but it has a limit in page conversion.
---
14. Nitro PDF to Word Converter
Nitro PDF provides a desktop app as well as an online version for the conversion of PDF files into word files. The tool allows you to upload multiple files at the same time.
You will have many options in formats. However, your converted file will be sent to you via mail. There is no download button to get your converted file directly.
The drawback of this tool is only five conversions limitations per month on each mail. you may face the issue with some of the images. But other than that text and quality are maintained well. It is integrated with Nitro Cloud.
---
15. PDF Candy
PDF Candy is a free online PDF editor tool. It provides many format options to convert the files. It also offers a desktop app as well as an online conversion tool.
It has also many PDF tools such as rearrange, edit, rotate, split, merge and watermark. The tool gives the option of PDF OCR which detects the text and character in multiple languages in PDF files. You will have multiple other formats in conversion to PDF.
The images within the file will be also extracted which keeps the quality in converted files. It can directly save the converted files into Google Drive and Dropbox. But you need to sign up to convert PDF files into Word files.
---
Few Final Words
These PDF to Word converter offer many features for free on a single platform. The important thing is the quality of the converted file. The content formatting shouldn't be disrupted after conversion.
Although, the mentioned PDF to Word converters ensures the quality of converted files and provides more additional tools for PDF files.
Need help with getting stuff done? Try Fiverr! You can find content writers for your website at a reasonable rate.